Welcome to South Africa, or as we like to say, "Karibu"! This land of extremes resides at the tip of what remains the world's wildest continent. From vast ocean vistas, to a delicate flora, from immense waterfalls to glorious vineyards and a teeming savanna, South Africa is eager to surprise, delight and enchant. Get ready for the adventure of a lifetime. Here are 7 reasons we recommend you join a South Africa tour!
1. Captivating Cape Town
Perched between the ocean and the mountain, Cape Town is a beautiful city that is a rare cultural gem resulting from the amalgamation of different nationalities and indigenous tribes. Beating to the rhythm of the ocean, it sees no boundaries when it comes to natural beauty.
See the pentagon-shaped Castle of Good Hope, visit the Company's Garden, and Journey to the top of Table Mountain, where you can marvel at panoramic views from the plateau summit 302 metres above sea level. The Victoria & Alfred Waterfront, situated on South Africa's oldest working harbour in the centre of Cape Town, is a favourite for many, while Robben Island, where Nelson Mandela was held captive for 27 years, will be sure to move you.
2. Boulders Beach & the African Penguin Colony
Enjoy a heartwarming up-close encounter with hundreds of penguins at this secluded beach. Surrounded by massive granite boulders, you will be able to walk in the white sands just meters away from the fun, smile-inducing birds, as they wobble past you and dive into the turquoise waters.
With the contrasting colours of grey granite, pale-yellow sands and blue sea water, this penguin's paradise is also a photographer's dream. If you are adventurous and cautious enough, you may even take a dip your new friends, and come home with the most vivid memories!
3. Stellenbosch, The Cape's Wine Region
Franschhoek, nestled between steep mountain slopes just outside of Cape Town, is a marvel in the heart of the winelands and is home to many producers in this increasingly popular region.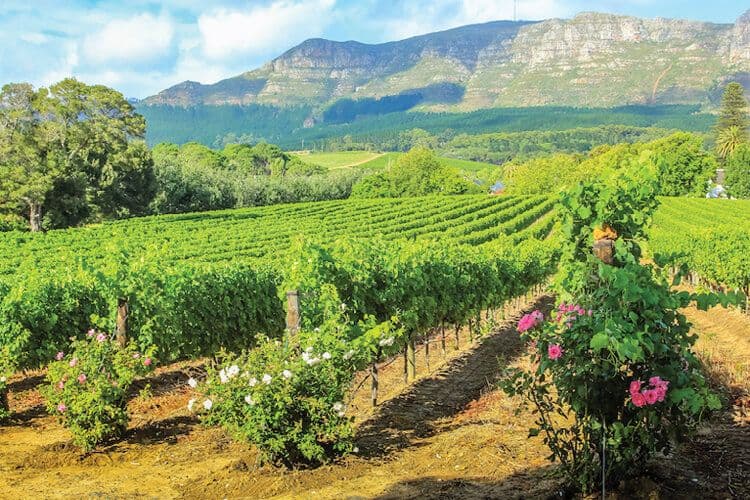 Visit the Huguenot Memorial Museum, enjoy a delicious wine tasting tour or relive history at the Stellenbosch Village Museum before wandering through the oak-lined streets of this picturesque town. Your palate and your heart will rejoice as you discover this incredible piece of culinary heritage during a South Africa tour.
---
4. A Magnificent Voyage on board The Rovos Rail
Simply put, if you are lucky enough to be one of the privileged few that get to experience life aboard the Rovos Rail, Africa's most luxurious rail Fourney, you should immediately make it part of your travel bucket list. Step aboard the wood-panelled coaches, classics remodelled and refurbished to mint condition, and enjoy fine cuisine in five-star luxury as some of the most varied scenery imaginable unfolds beyond the oversized panoramic windows. While the Rovos Rail itineraries cover most of the territory in Southern Africa, some routes are more prized than others, and a properly designed tour will ensure that your Rovos Journey portion will fit seamlessly within your adventure so that you don't skip a beat.
Journeys by Van Dyke has taken the hassle out of planning this portion of your trip, and contracted deluxe cabins aboard the Rovos Rail en route to the northern edge of the country, where discovery await.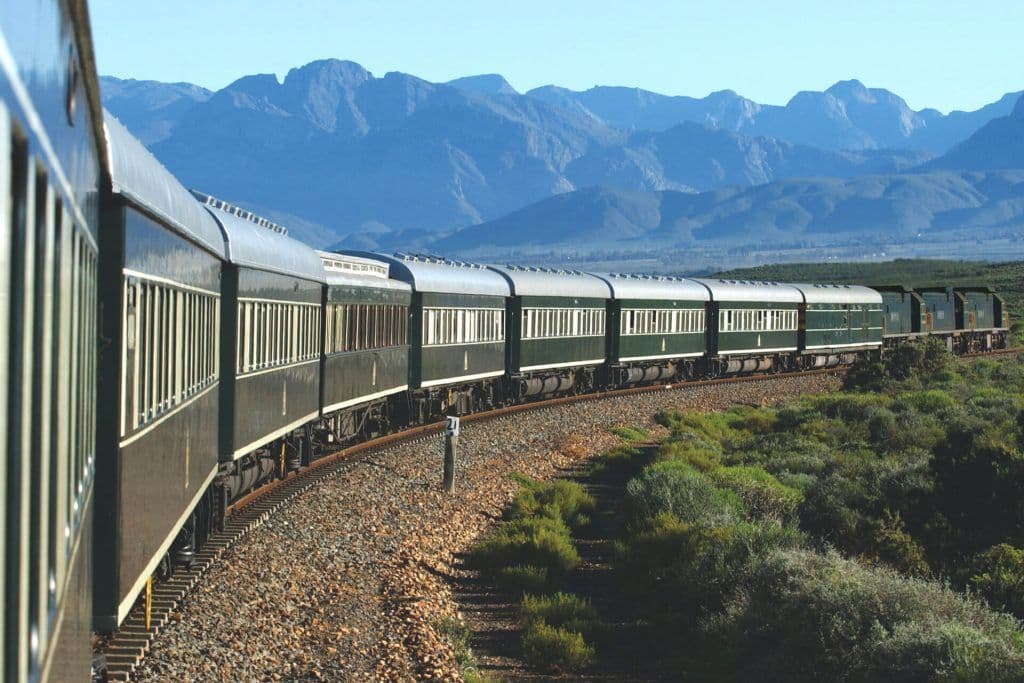 ---
5. Safari in a Private Game Reserve? Yes Please.
A South Africa tour would not be complete without a world-class Safari experience. While safaris in Kruger National Park are available to the public, a carefully organized game drive in a private game reserve can improve your South Africa tour.
That is why we recommend joining Journeys by Van Dyke for your Africa experience, as we have taken the time to craft a perfectly timed and balanced Safari experience, and we do so in the comfort of a wonderful river lodge that is part of the 36,000-hectare Blue Canyon Conservancy.
As the sun rises, you will have the privilege of feasting your eyes on some of the world's most prized wildlife, including the infamous Big Five mammals. Observe the African Elephant, Black Rhino, Cape Buffalo, African Lion and the most coveted of all, the African Leopard. In their natural habitat, you will notice time slowing down, revel in the sun-kissed savanna surrounding you, and your personal travel passport will feel as full as ever.
---
6. Johannesburg and its Stirring Past
Johannesburg is charged with history, rich in tradition, and embodies a cultural renaissance that is rare in the travel world. As the country's biggest city and economic capital, the urban sprawl commonly known as "Jozi" will captivate you with its undeniable hum and energy, but also serve as a platform for you to learn about the roots of the black empowerment movement following the long-standing rule of the Apartheid state.
From your first steps inside the thought-provoking Apartheid Museum, get a glimpse into the history of racial segregation and recount the history of the rise and fall of apartheid in 20th century South Africa. Whether it is walking along the steps of Constitution Hill or touring the world-famous Soweto slums for intimate encounters and an impromptu dance performance, Johannesburg may very well convince you to make a second trip to the country. More importantly, it is where you can extend your Journey to the awe-inspiring Chobe National Park, home of 100,000 wild elephants, or to the world-renowned, endlessly abundant Victoria Falls.
---
7. Victoria Falls, Wonder of the World
How many world wonders have you had a chance to visit? Whether your answer is zero, one, or seven, consider yourself lucky! Southern Africa has been graced with one of them, the thundering yet elegant Victoria Falls, stretching over almost 2 kilometers and falling over 100 meters into a spectacular gorge formed by the Zambezi River at the border of Zimbabwe and Zambia.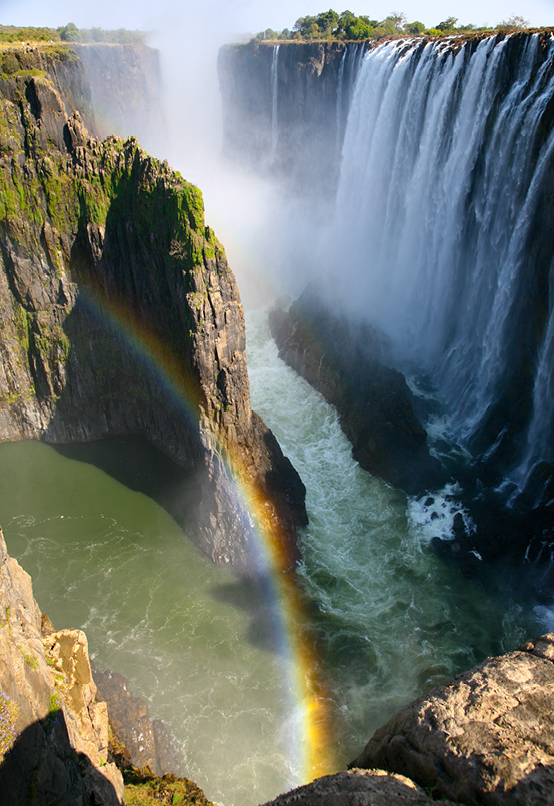 At Journeys by Van Dyke, we believe this natural phenomenon is best appreciated from a bird's eye view, which is why our itinerary includes a helicopter tour of this powerful landmark. As you take flight and rise above the endless mist formed by the crashing river, you will see and feel the riveting falls up close and quickly realize their magnitude. An appropriately grand finish to your lifetime Fourney across Africa.
---
Are you ready to experience a truly once-in-a-lifetime Journey?
Journeys by Van Dyke has designed an all-inclusive South Africa tour. Our itinerary includes the essentials like Cape Town and Johannesburg, but we take it a few steps further. You can expect to witness South Africa's true splendour through cultural encounters with indigenous tribes. Relax during four all-inclusive days aboard the world-class Rovos Rail. Revel the beauty of Victoria Falls and Chobe National Park in Botswana. We invite you to learn more about this very special travel experience, and to ask all your questions. At Journeys by Van Dyke, we deliver outstanding value. We are excited for you to experience Southern Africa the way it was meant to be discovered.
Journey through
South Africa
Join us as we discover the rich culture and rugged beauty of South Africa by land & rail.