Sip a delicious Aperol Spritz from Italy, or savour a refreshing Pisco Sour, popular in Peru. In every corner of the world, you can taste irresistible cocktails made with local liquors, fresh fruit, and a touch of creativity that will make your head spin. We have put together a list of eight of the most iconic cocktails from around the world, all instantly recognizable and surprisingly simple to make at home. For pure bliss, prepare one of these with a simple canapé, grab a good read and get settled into a nice deck chair at sunset.
1. Pisco Sour — Peru
The Pisco Sour is considered part of Peruvian heritage right alongside Machu Picchu (but don't tell Chile who make a similar claim to this drink's origin!) Made from Pisco (grape brandy) this beverage is super sweet as well as velvety smooth thanks to the clever inclusion of egg whites. If you don't have Pisco on hand, substitute grappa, brandy or white tequila. Add a special flavour with a splash of lavender syrup, one ounce of Aperol, or a mint leaf garnish.
2. Sangria — Spain
A pitcher of this timeless aperitif is a great companion for sun-filled afternoons by the pool or lakeside at the cottage. While dating back to Rome and Greece centuries ago, Sangria first caught everyone's eyes and taste buds at the 1964 World's Fair. Different delectable takes on the classic include adding fresh seasonal fruit, replacing red wine with white, and adding a range of complementary spices, such as mulling spice during the holidays. For a non-alcoholic version, replace wine with chilled black tea.
3. Kir Royal — France
The city of Dijon is recognized worldwide for its intense and complex mustard. However, it is thanks to their blackcurrants that Kir Royal became a local specialty in 1951 and possibly the most identifiable cocktail in France. Simply mix half an ounce of blackcurrant liqueur with champagne in a flute and garnish with fresh raspberries for a drink that is both fruity and refreshing.
4. Aperol Spritz — Italy
Spritz as it is often called came to be in 1919 along the canals of Venice. It is said Austrian soldiers stationed in Italy would ask barkeeps to "spray" their wines with sparkling water because their beer-drinking palettes weren't ready for the strength of Italian wines. Slightly bitter, with light tastes of oranges and herbs, this brightly red beverage served in tall glassware is sure to impress.
5. Pimm's Cup — England
Created in 1823 by none other than British food proprietor James Pimm, this delicious liqueur was first served as a digestif in his oyster bar across the street from Buckingham Palace. Today Pimm's Cup is a gin and spice cocktail enjoyed around the world and is considered a must-have summer drink in England. For those who prefer less alcohol content, Pimm's Cup can be made long and a little bit sweeter by adding fresh lemonade.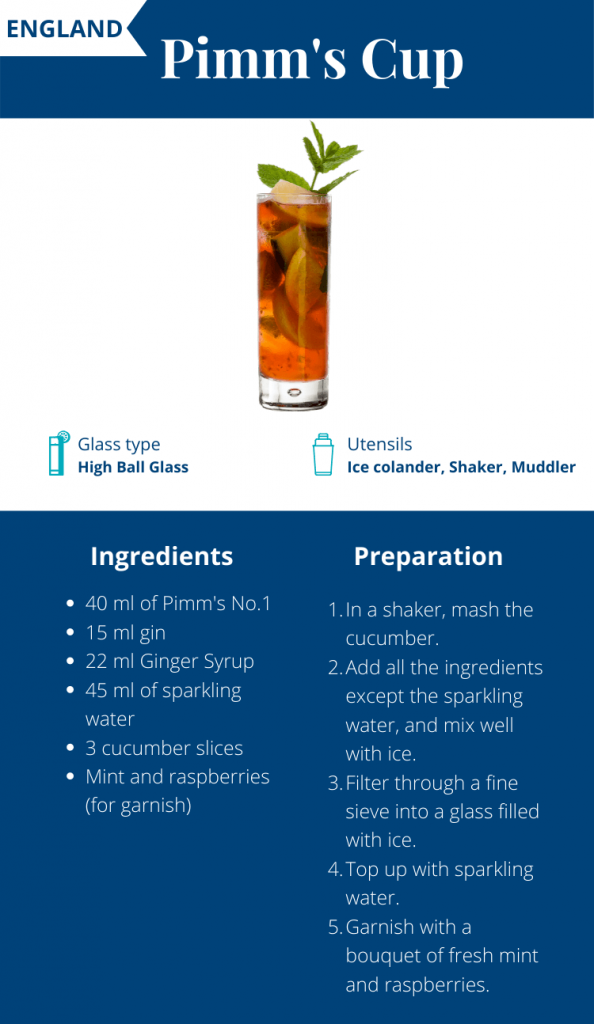 6. Irish Coffee — Ireland
Irish Coffee is probably the most famous of the hot cocktails. This "Irish fuel" was invented during the Second World War and, as with the best of Irish literature, dreary weather played a role in its creation. Rich, comforting, and familiar, you are sure to cup this drink with both hands. For a more refreshing take, freeze coffee and sweet cream in ice cube trays, blend with 1.5 ounces of whiskey and garnish with whipped cream and chocolate sauce.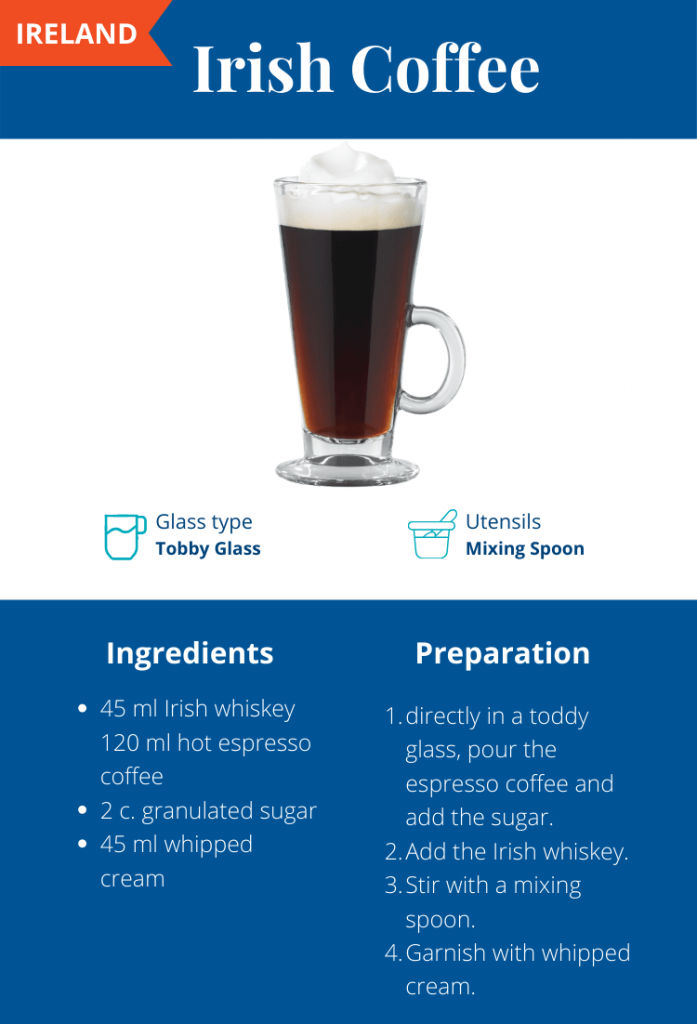 7. Singapore Sling — Singapore
While there is no dispute that this drink originally came from the Raffles Hotel in Singapore, what is often questioned is the ingredients in the "original" recipe. Some add cherry brandy while others use cherry heering or grenadine. Regardless, this beverage is an easily made, smooth-sipping mix drink sure to pair well with spicy sautéed shrimp or a few fresh rolls.
8. Siam Sunray — Thailand
The Siam Sunray was concocted by the barman Surasakdi Pantaisong as part of a campaign for the Tourism Authority of Thailand in 2009. The signature cocktail is a harmonious blend of local flavors, mirroring what you would find in authentic Thai cuisine: coconut, chilli, lime, ginger and kaffir lime leaves. Coconut liqueur is not common in Canada so it is normal to replace it with coconut flavoured white rum. First sip you will forget you're not sitting in on the beaches of Phuket.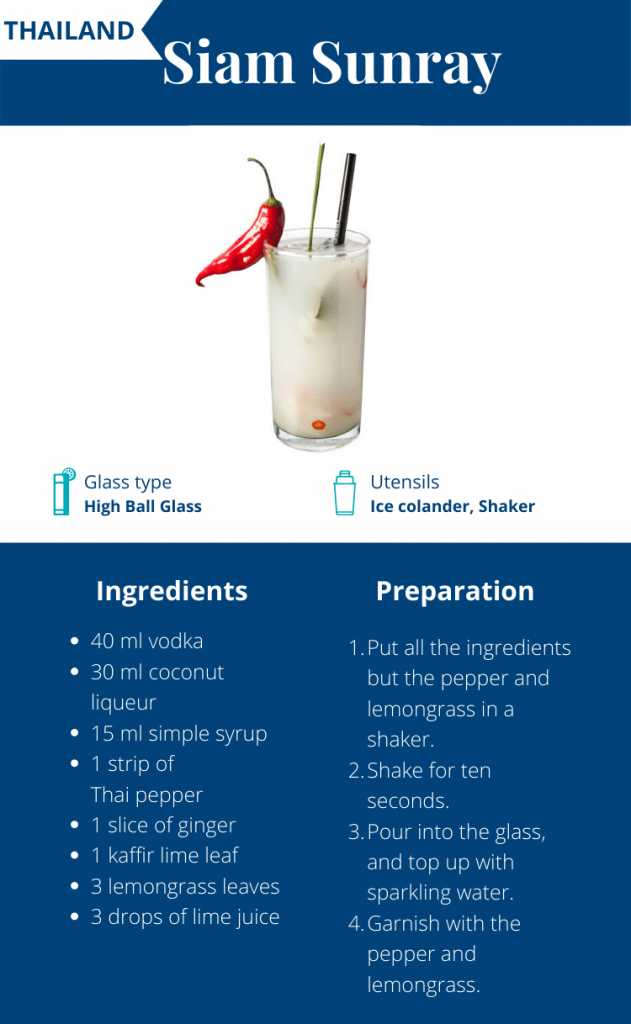 Bonus:

Bloody Caesar — Canada

Our beloved national drink made its debut in 1969 at The Westin Calgary when bartender Walter Chell wanted to create a cocktail, inspired by alle vongole pasta of all things. Based on Clamato juice, this cocktail has spread from coast to coast to coast and beyond, to the point that in 2009, Parliament named it Canada's official cocktail. All hail the Caesar.