Although distinct in their own right, the countries of Ireland and Scotland share many enchanting commonalities that attract visitors from across the globe. Both are recognized for their pastoral landscapes and mythical castles, they share a complex and intertwined history, they have similar palettes for finer distilled beverages, and both nations are absolutely gorgeous in autumn. For discerning travellers, there is no better opportunity than a Scotland and Ireland tour to enjoy comfort, class, and stunning views as far as the eye can see.
1. Fall Colours
While the air is crisp, those who visit Scotland and Ireland in autumn are rewarded with a leaf-peeping experience rivaling that of the Northeastern United States. During the fall, the leaves along the shores and across the countryside change from green to vivid crimson, brilliant auburn, and golden amber, while the grass on the moors shifts to an intense scarlet. These warm hues will invite you to amble across the many castle grounds, estates, and shorelines that make up the varied geographies of both splendid nations.
While the subject of some dispute, it is generally acknowledged that the leaves reach their most intense stage of the seasonal transition in the second half of October. A few destinations of note to get the very most out of the changing leaves are the Scottish Highlands (aboard the Jacobite Steam Train), the Cliffs of Moher, and overlooking the Eilean Donan Castle.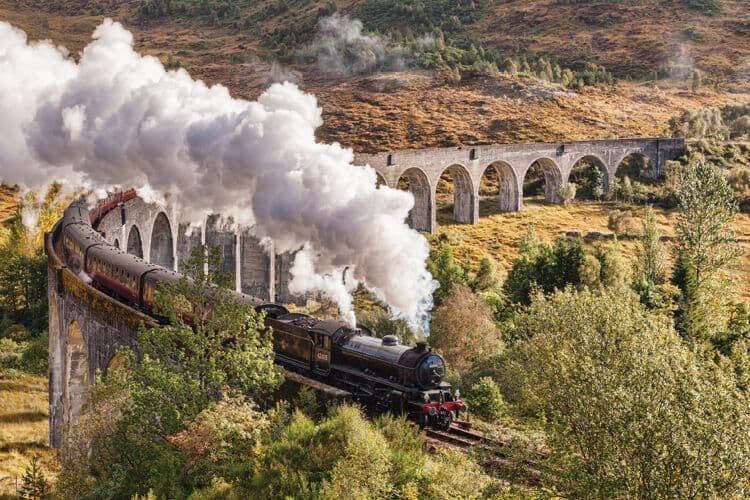 2. Guinness
Although undoubtedly impressive, the fall colours are simply the beginning of what makes Gaelic autumn worth experiencing. There is an indescribable comfort that comes with sipping a warm beverage by the fire while enjoying good conversation, even if that warmth is merely the welcome blush courtesy of a well-roasted stout. While this may be a surprise to our guests, given Canadians' affinity for reserving stouts for colder weather, Guinness is consumed year-round in Ireland, and a good pint of this malted-barley brew is sure to warm your spirits on a brisk evening.
Guests on our Journey to Scotland and Ireland spend time in Dublin behind the famous black gates at the Guinness storehouse. In addition to learning about the centuries-old process and ingredients that go into brewing Guinness, they will have the opportunity to experience Dublin from above in the top-floor Gravity Bar.
3. Warm Accommodations
One of the notable benefits of the crisper weather in the fall is that it makes warm, welcoming accommodations that much more appreciated. There are many inviting accommodations to enjoy during a Scotland and Ireland tour, from quaint farmhouses to magnificent estates that will make you feel right at home. In guest rooms, it is common to find the plush bedding topped with a tartan throw blanket or a traditional fur. When it comes time to hit the proverbial hay, you will sometimes be treated to a turndown service and your choice of comfort off the hotel pillow menu. Guests on our Journey to Scotland and Ireland stay in such tasteful accommodations as the Charlotte Square hotel in Edinburgh, cozily pictured below.
4. Wildlife
While many consider autumn an ideal time to hibernate, Scotland and Ireland still teem with life in this season. It is common to catch a glimpse of seal pups along the coast or salmon struggling upstream to their spawning grounds, and many encounter forest animals scurrying about in the fallen leaves securing food for winter.
With inspiring sea views, mist-covered mountains, and inviting sheep dog trails, the Ring of Kerry is considered one of the most beautiful regions of Ireland. Mid-October is also the time of the region's annual red deer rut, thus a lucky few visitors will witness bucks as they lock antlers in competition for the attention of fair does.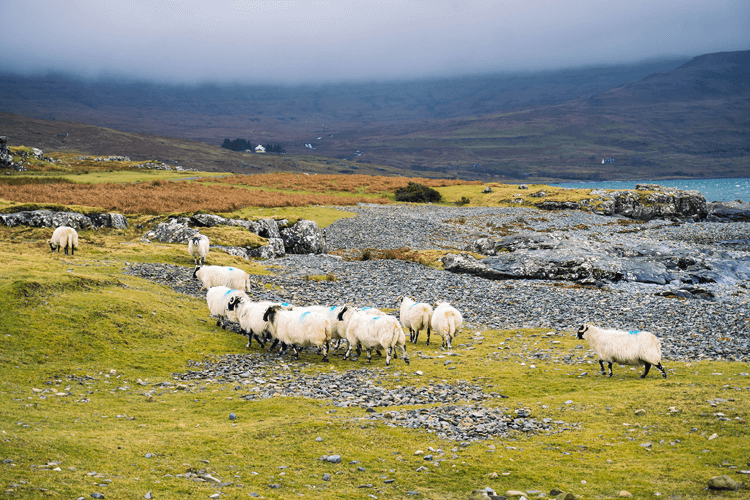 5. Museums
In addition to the quaint and historic small towns you can find throughout a Scotland and Ireland tour, both countries also offer countless museums, such as the Kelvingrove Art Gallery and Museum and the Scone Palace. Located in Glasgow, Scotland, Kelvingrove features 22 galleries and ever-changing visiting collections, including an impressive selection of art, animals, arms, and armour—all yours to discover. While technically a historic house, Scone Palace, based in Perth, Scotland has such a splendid collection of art on display it could be considered a museum in its own right, featuring stunning works of porcelain, ivory, paintings, furniture, and heirlooms of the home's previous residents. You will enjoy surveying each treasure as you explore the home's numerous staterooms.
If spring is a time for renewal, then autumn is the time to rediscover. While you may have already been to Scotland and Ireland in a past summer, the transition these regions go through in the fall can make them warm and familiar yet also unique and otherworldly. When you join us on a Journey to Scotland and Ireland, we take care of the details, so you can take your time and focus on enjoying the scenery and experiences that lie ahead. Whether it's the gorgeous views, the warming brews, or the brisk air as you walk among the relics of history, you are sure to find something unique and comforting in your journey to Ireland and Scotland with us.
Journey to
Scotland & Ireland
Join us as we discover the many warm autumn sights of Scotland & Ireland.